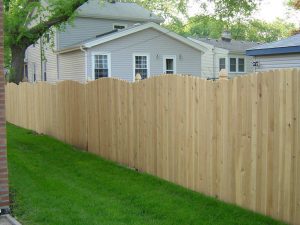 Wood fencing can be the perfect complement to any home. Durable versatile, and pleasing to the eye, a wood fence also provides the practical function of keeping outsiders and stray animals from your yard or home. Wood fencing comes in different forms, colors and wood types and can be painted in the color that suits the exterior of any home. It also has a lower cost compared to metal or vinyl fencing options.
Advantages of Wood Fences
Aesthetic appeal and versatility
A wood fence has a natural aesthetic appeal that makes it a great fit for a wide variety of home styles, whether you live in a Spanish ranch style home or a New England cottage-style house. Wooden fences are also versatile enough to be treated and cut in a way that make them suitable for more modern home designs.
Low Initial Cost
A wood fence will cost lower than a metal or vinyl fence job. It is easy to install which means that installation costs are quick and affordable.
Ease of Care and Maintenance
A wood fence is notoriously easy to maintain especially for fence options that do not need to be repainted. Wood stains and weather-sealing treatments, which are relatively inexpensive, are often all you need to do for maintenance that will keep your wooden fences in good shape for the rest of the year. Your fencing contractor can also recommend the best options for fencing pre-treatment options that will protect your fences from insect infestation and rot.
Durability and Longevity
With ample care and treatment, a wood fence can last for decades. Well-maintained wood fences may even last longer than other options depending on the type of wood and treatment that you choose.
Find a fence contractor that offers reliable professional fencing services for a fair price, regardless of the size of the fencing project. Whether you are looking at wood fencing options or want to discover the advantages of other options such as vinyl or metal fences, working with fully-licensed fencing professionals is one of the wisest choices that you can make.